Estate Settlement During COVID-19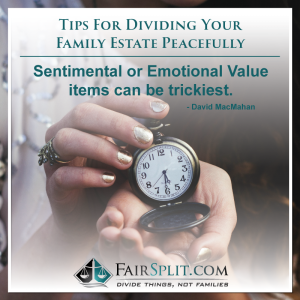 Estate Settlement of personal property and tangible assets between heirs has always been one of the most challenging parts for families and professionals helping them.  Think about the typical solutions offered. Most all of them start with: "Get together at the house…… use Monopoly money, draw straws, have a mini auction, put stickers on things".  Obviously with our current situation of social distancing, no travel, no close contact etc., this process is thrown into incredible disarray, with no less need to get it done.
Many families are actually under increased pressure to clear the house and prepare it to sell or rent, as the family needs access to the money from the sale of the house.  Those same families are not being given workable solutions by their professional advisors, because the industry hasn't yet shifted to online solutions.
The positive news for shifting to cloud-based solutions now is that more people than every find themselves having to learn to work remotely.  The age of those now getting comfortable with online tasks and solutions has shifted to older almost overnight.  Families and companies are staying connected through Zoom, FaceTime, Google Hangouts and other means many were afraid to try until thrown into this unimaginable situation.  Their comfort level with all things online is skyrocketing out of necessity in our current social scenario.
Online applications like those at www.FairSplit.com provide a FREE platform to upload appraisals, photos, list assets, categorize and share privately with families.  Some advantages to having cloud-based data bases include:
– full transparency for all family members and the legal professionals helping them
– user friendly sorting alphabetically, by room, by category, by value, or simply typing into a search box
– changes made to a list, or assigning to an heir, or to be sold, donated etc. appear instantly for all
– when decisions have been made of what goes to whom, or is to be sold, donated, etc. reports sort and print with photos to help guide those packing and clearing the home
– if the family needs a system to divide things, FairSplit has upgrades to division plans
– if the family needs help listing items from photos, FairSplit can list and categorize for under a $1 per photo
– Can provide non-appraisal level third party "market values" placed on assets for equitable distribution
– If a family needs a person to serve as an independent administrator or to help the family navigate the process, or mediate; FairSplit can provide that as well.
Nothing in our current global constraints for COVID-19 changes the fact that people still die, their estates need to be dealt with, and families are often in greater need of the money available from clearing the house sooner than later for sale or renting.  Cloud based solutions are not futuristic in this process.  FairSplit has provided these tools to thousands of desperate executors, probate attorneys, fiduciaries, etc. for several years.  Zoom has been used by millions, but is seeing those numbers multiply rapidly as online becomes the only practical way to do things.