FREE Shareable Home Inventory
For movers, personal property appraisers, estate liquidators, downsizing specialists, professional organizers, decorators, or just families listing and sharing information
As a professional are you either handwriting inventories, even using carbons, red, yellow and green stickers, using spreadsheets, photo sharing sites and emailing files, or expressing reams of photocopies to communicate with clients and co-workers about what goes where or who gets what? View key features below:
FairSplit.com has created a custom, web-based tool to make photographing and listing and sharing the contents of a house easy to create and manage for all your accounts:
By Client, by Property, then room by room, by c

ategory, value, box number

Co-branded fully if signed up as a Silver Sponsor service

With or without fair market values assigned

Photos can be assigned to one or multiple items

Photos may be renamed to the pictured asset on the photo, then corresponding assets created

Multiple Listers may be assigned to assist in listing the assets

Multiple photos can be assigned to a single item

Description area to include any and all details of the item

Upload appraisals, receipts, or any other related files to an asset

Account access can be shared with the destination movers and others with destinations assigned

Wide variety of sorting features and printable and exportable reports options as excel, csv or pdf's with photos included in the reports
To Upgrade from FREE Inventory to a Division Plan, click Upgrade banner bottom left while logged in to your free account.
As a tool for your team, different permission roles are possible and all jobs managed through a single company account, or multiple accounts:
Lister, Valuator, Observer, or Administrator.

One can photograph and upload room by room

Another can list assets from photos, or while in the room

another can create a quote or bid on your job

packers can designate what goes where, what can be sold, donated, which items are in which box, in which room

The sorting features allow any number of reports from contents by category, by room, by value, by what is being sold, donated, kept, what is in boxes by box numbers, etc.
As a family, this can all be shared with other family members to create the inclusion and transparency so important for peaceful dividing of assets in estates, downsizings, and divorces. No need to schedule face to face, send big packages of info, and no travel or time off needed. The Executor, or one party doesn't have to do it all either. He or she can take the photos, and ask others to help list what is in each room, or invite a third party to put approximate values, and anyone that needs access can be invited as an Observer.
If additional help with a division process is needed it is an easy upgrade to FairSplit's "Divide Things, Not Families" division packages anytime.
FREE Shareable Home Inventory Questions
Is it really free? Yes, you may make as many free accounts as you like, all managed through a single login. Use for your business as a job management and sharing tool, or as a family to create a centralized place to list, organize and share information about the contents of a home.
How do you do this for free? It is our pleasure to offer this free so families and the professionals who help them become more familiar with the custom tools we have created and use them to make the process easier and less painful. Our goal is to help in estate, downsizing and divorce situations especially. Some will be able to use these tools for inclusion and transparency for all parties, and that may be enough. However, some will benefit by upgrading to our full division packages.  Do you store forever? No, at two years, if the account hasn't been accessed for at least a year, and no reply is received from the Admin email, we reserve the right to delete. If no reply, another email will go out to the Administrator to notify pending deletion.
Why is this service better than using photo sharing sites, or document sharing services from much larger companies? FairSplit was specifically designed for the tasks associated with a move, estate division or divorce where people need to decide who gets what, what can be sold, donated, etc. You could use a combination of the well-known sharing services, but it would be cobbled together and not so easily shared or restricted by user access, with limited permissions.
So in summary, to use our shareable home inventory system:
Create your own customized online account to manage a move, from quoting a job from photos organized by room, to having someone else help list the items seen in the photos. Insert your own logo, slogan, contact information to customize. As a decorator, compare before and after rooms, or if moving, use current room and destination room to have lists of what goes where.
If using as a family, now you don't have to do it all alone. Get family living far away to help you list the things in the house by simply inviting them too assist online. All parties being able to see everything, creates inclusion and transparency.
If you need additional help with a way to divide things peacefully, upgrade to the FairSplit patented division package right for you and your family.
Our platform allows you to List, Value, Divide and Move a client's personal property from anywhere, and we are here to help you.
To assist professionals offering FairSplit to their clients, we provide:
Training Webinars for Providers and full email and scheduled phone support.
Discount Coupon Codes to extend to your clients.
Affiliate commissions for online orders originating from a link on your site.
Tiered Agency and Administrator management for firms wanting various staff running and accessing their own client's divisions.
Set-Up and Administrative collaboration for you and the User Administrator.
Tracking of the process and notifications of rounds completed for review.
Full Reporting by Categories, Ownership and Sell or Donate Designation.
Appraisal, document and photo attachment capability for all items.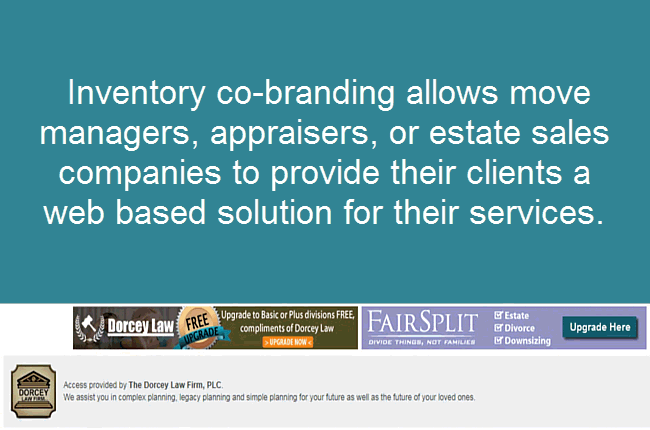 Personalize or brand your accounts with logo, photo and copy.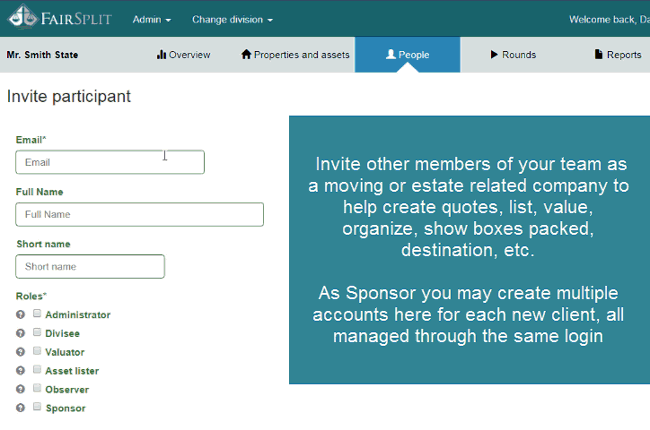 Invite others from your team to help quote, list, organize and view.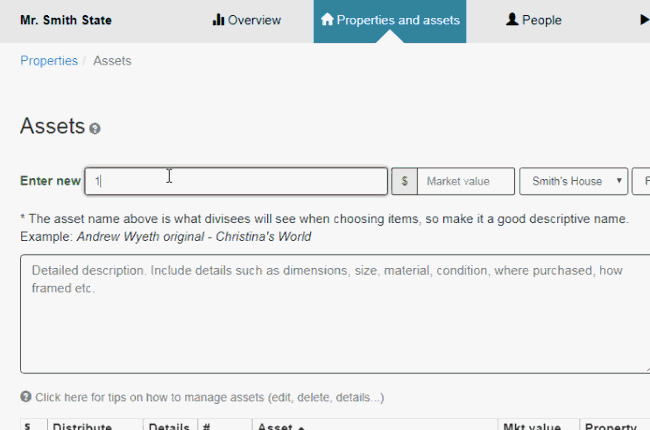 Creatively use to show packing, destination rooms, etc.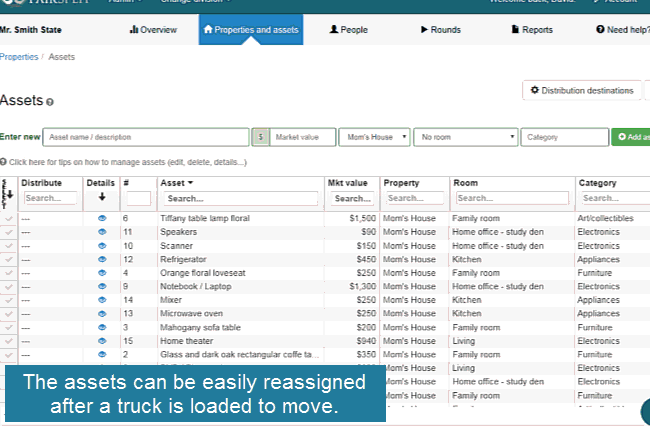 Redistribute assets to show where they go in a move.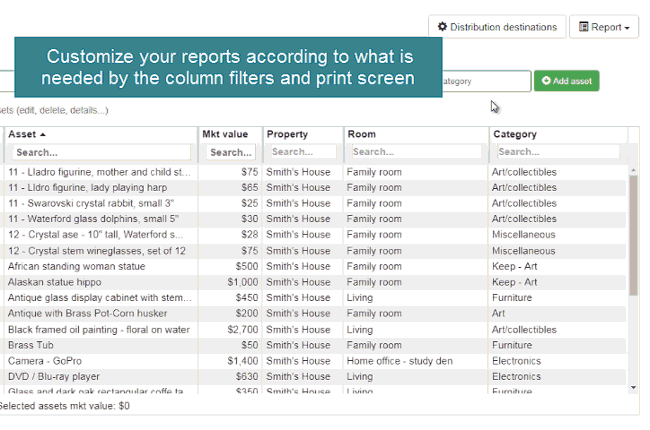 Use default reports or be creative with the filters to make your own.
Contact our support team to learn more about our FREE Shareable Home Inventory System